Did you know that insulating the body, as opposed to a warehouse, is much more energy efficient? Think about it – our own bodies create heat, therefore wearing a thermal base layer, a hat or a lightweight jacket helps to regulate the body temperature when the external temperature is low; providing you with one simple and effective way to combat the energy crisis this winter.
We are the leading global freezer workwear brand, and have been in this market for over 43 years. Trusted by cold store companies all over world, with years of development in providing thermal clothing to people working at temperatures down to -40°C, we are undoubtably the go-to company for your thermal workwear needs. 
 Take a look at our 'ENERGY SAVING KITS'
save 10% when you buy these kits
Based on an average UK warehouse size of 340,000sq ft, it has been proven that by simply turning down the heating by 1°C you can save up to 10% of your heating costs*, however by adding a thermal base layer to your clothing, you can save up to 40% of your energy costs*. 
We already supply the largest distribution companies across the UK for this exact reason. Amongst a vast range of thermal clothing solutions, we have a combination of energy saving kits, that include thermal base layers, hats and gloves that are readily available and can be purchased online for next working day delivery. 
Investing some of the money saved into your staff that are working in cold temperatures this winter, you will be keeping them warm and comfortable, which in turn will increase productivity, efficiency, and create a constructive culture.


To find out more, visit www.flexitog.com or call 01692 400 300
*data from external sources
https://www.lowtechmagazine.com/2011/02/body-insulation-thermal-underwear.html

ENERGY SAVER THERMAL WINTER KIT 
Containing a set of white thermals, glove liners, a pair of classic thermal socks and a warm, stylish hat.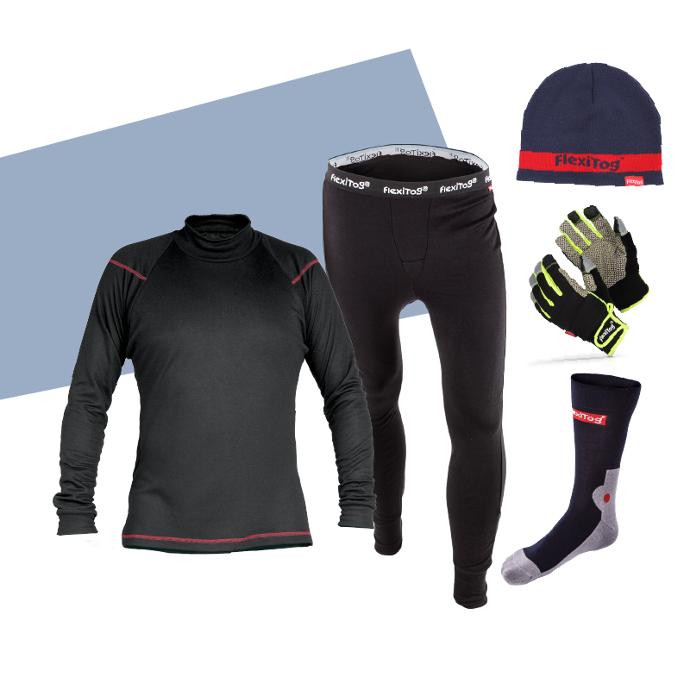 BLACK THERMAL WINTER
KIT

Containing classic black thermals, touchscreen gloves and also a pair of classic thermal socks along with a warm, stylish hat.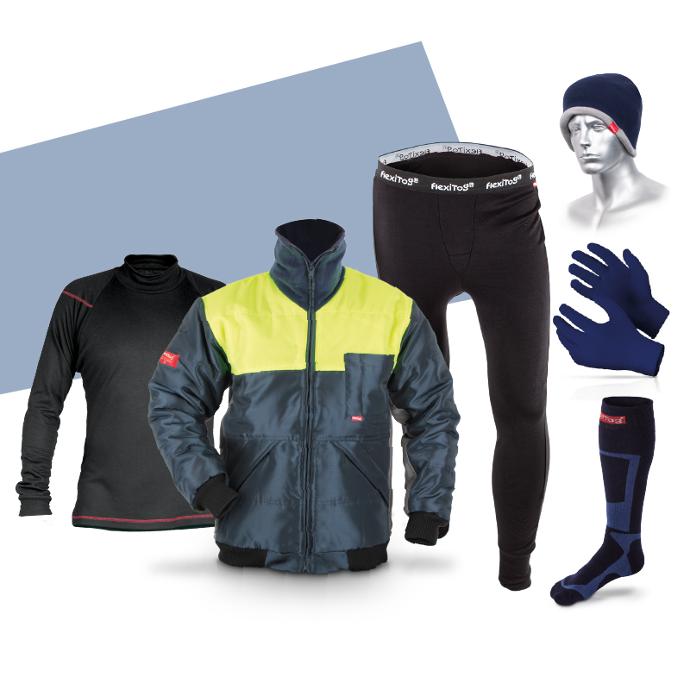 ENERGY SAVER WINTER WORKER KIT
Contains our Classic Active Jacket which is a strong and lightweight jacket perfect for people working in sub-zero temperatures.
Also includes classic black thermals, pair of glove liners, thermals socks and our warmest hat.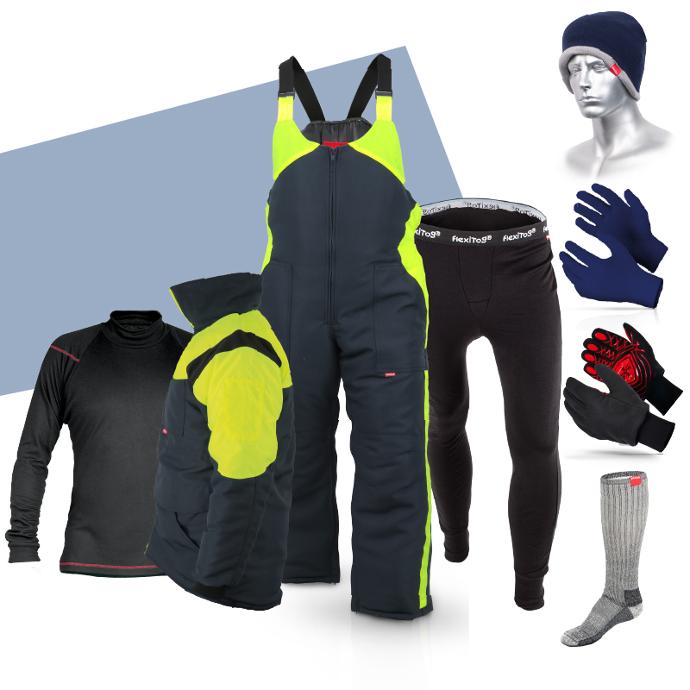 ENERGY SAVER ULTIMATE WINTER WORKER KIT
The complete kit providing perfect protection from the cold. The Classic Cold Store Salopettes are a great all-rounder for working in cold environments. Along with our best selling cold store jacket which includes performance insulation and FlexEasy giving you maximum comfort.
Also including glove liners, grip fleece gloves, pair of thermal socks and our warmest hat.